Special Edition: Read it Here First! 
Alfa Romeo recently debuted with limited-edition 4C Spider Italia for the 2020 model year. It is so limited there are only going to be 15 models, that's right just 15! Inspired by the brand's legendary racing history, the 2020 Alfa Romeo 4C Spider Italia grants enthusiastic drivers a mid-engine design that represents the sportiness deeply embedded in the Alfa Romeo brand's DNA. All 15 models will be handcrafted in Modena, Italy. Keep reading to learn even more about this incredibly limited and incredibly stunning Spider!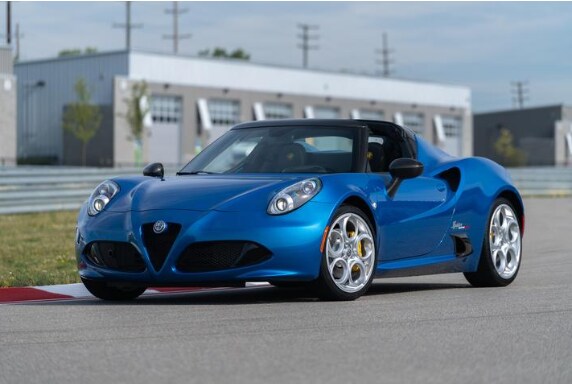 What kind of features will the exclusive 2020 4C Spider offer?
The limited-edition 4C Spider Italia's standard features will include an aluminum dashboard insert emblazoned with the "4C Spider Italia" logo, a unique livery with dedicated "4C Spider Italia" graphics, piano black front air intake and rear diffuser, progressively numbered plate on the center console, and an exclusive Misano Blue Metallic exterior color that is not available on any other 4C variant of the Spider. 
What else can you tell us about the 2020 4C Spider?
The 4C Spider offers consumers one of the most exhilarating driving experiences on the market today, with room for a friend as the sports car can seat up to two passengers! Panoramic views and the heart-thumping soundtrack of the performance-tuned Italian exhaust and engine will please every driver and passenger as they take the long way home! Eyes will be immediately drawn to the seductive Italian styling, a representation of Alfa Romeo's cars heritage. The 4C Spider is unlike any other vehicle on the market. 
Powering the sports car is an all-aluminum 1750cc turbocharged engine that generates up to 237 horsepower and 258 pound-feet of torque. This engine is enhanced with variable-valve timing, direct-injection, and dual intercoolers for super-car level performance. This incredible engine and advanced technologies allow the 4C Spider to sail from 0 to 60 miles per hour in just 4.1 seconds, reaching a top speed of 160 miles per hour! Overall, the vehicle weighs less than 2,500 pounds. The carbon fiber monocoque chassis is inspired by state-of-the-art Formula 1 and enables an outstanding 10.4 power-to-weight ratio. Standard features found within the exclusive 2020 4C Spider Italia include rear parking sensors, cruise control, and a rearview camera. 
Can you tell us more about the Alfa Romeo brand?
The Alfa Romeo brand was founded in Milan, Italy in the year 1910. Crafting some of the most exclusive and stylish cars in automotive history, Alfa Romeo takes an innovative and unique approach to designing and creating automobiles! In addition to the other two outstanding vehicles Alfa Romeo creates - the Stelvio and Giulia, the Alfa Romeo 4C Spider rounds out the world-class lineup. The 4C Spider represents the mechanics of emotion or La Meccanica Delle Emozioni in Italian thanks to it's mid-engine and race-inspired design! 
Where can I learn more about the 4C Spider? 
We have a fantastic review of the 2019 4C Spider -- that we have in stock right now in our
online inventory
! If you are interested in learning more about the exclusive 2020 4C Spider Italia you can reach out to Alfa Romeo at sales@alfaromeo.com